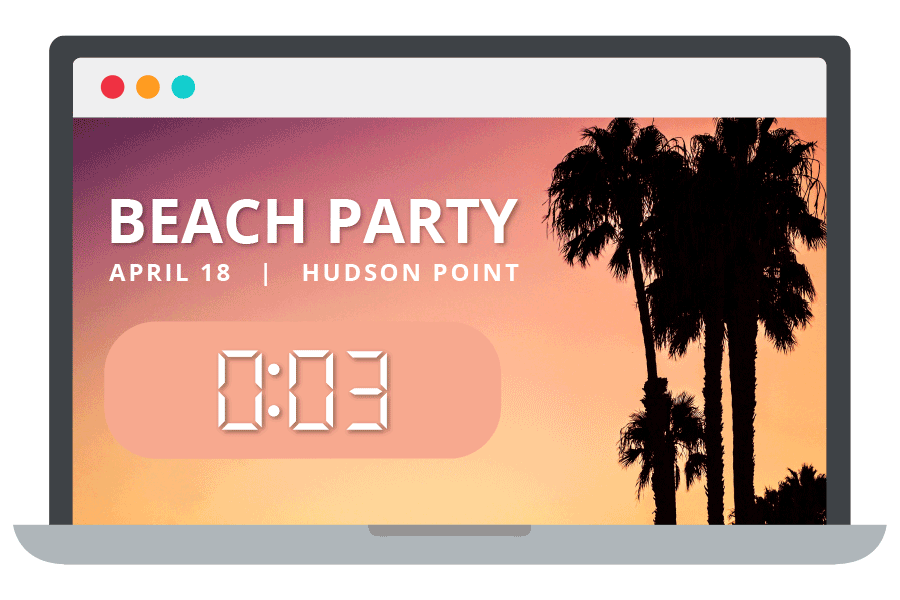 Automatic message transitions
Automatically transition from the countdown clock to a friendly custom message.
When the timer hits zero, it automatically transitions to a message such as "Our program is about to begin!" — meaning viewers stay engaged even when your talent is running late or a microphone needs adjusting.
Launch page mode
Automatically load your website when the clock hits zero.
StreamTimer can automatically load your website or streaming URL when the countdown clock hits zero. Use StreamTimer as an instant launch page URL that can be distributed days (or even months!) before your event or web stream is ready.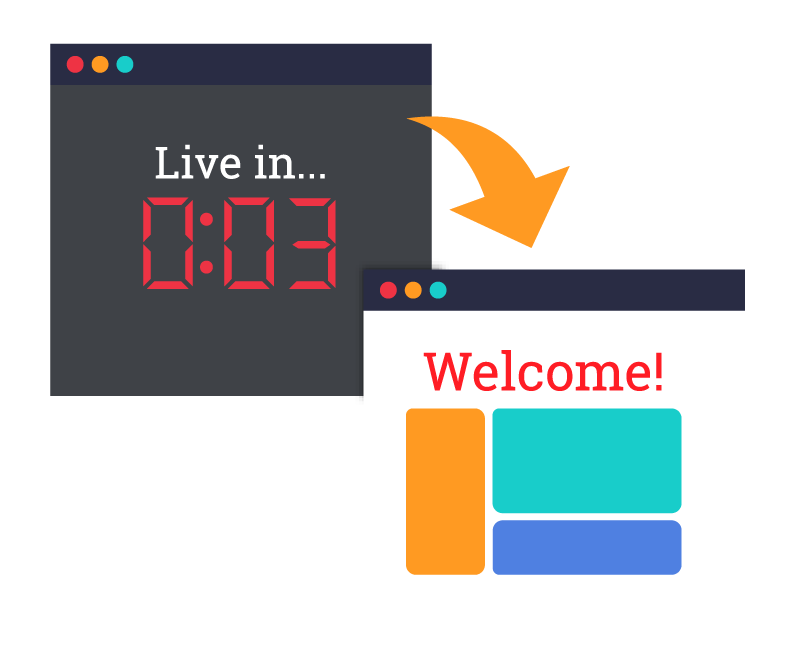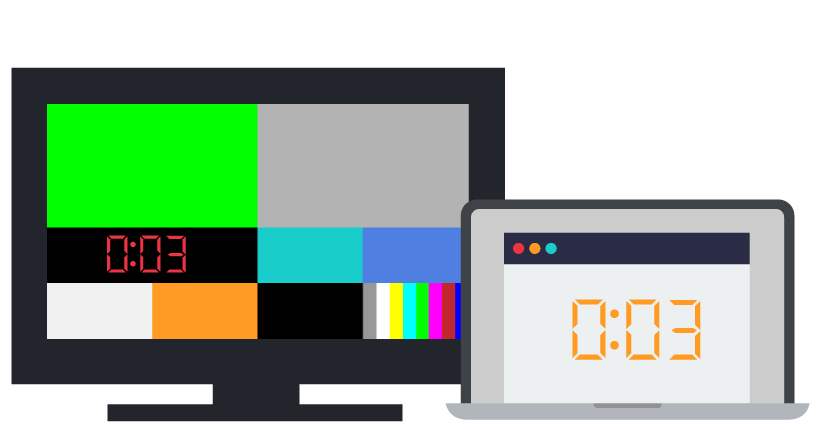 Synced crew clock
StreamTimer provides a dedicated timer for the live studio crew synced with the audience-facing countdown clock.
This keeps your live production in perfect lockstep with the schedule the audience is expecting. The crew clock removes all the styling from the audience clock and displays just the timer in big bold numbers.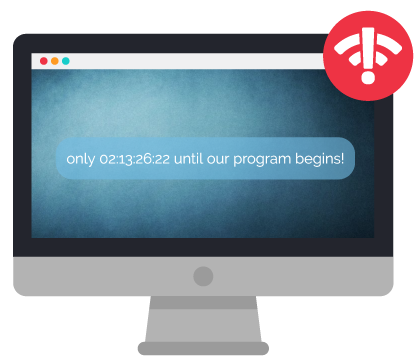 Offline mode
Download the timer to run directly from your computer – no internet connection required.
Once you've created the countdown timer for your event, you can run it from the web app or download a ZIP package of the functioning timer that still works perfectly with no internet access.
Custom messaging
The messaging before and after the countdown clock as well as the pre-roll announcement can say anything you want.
The pre-roll announcement can start exactly when the clock hits zero or any time before that. For example, your countdown time can be anything from In just 04:02 we go live! to There is 05:34 remaining to 17:22 until the sale begins!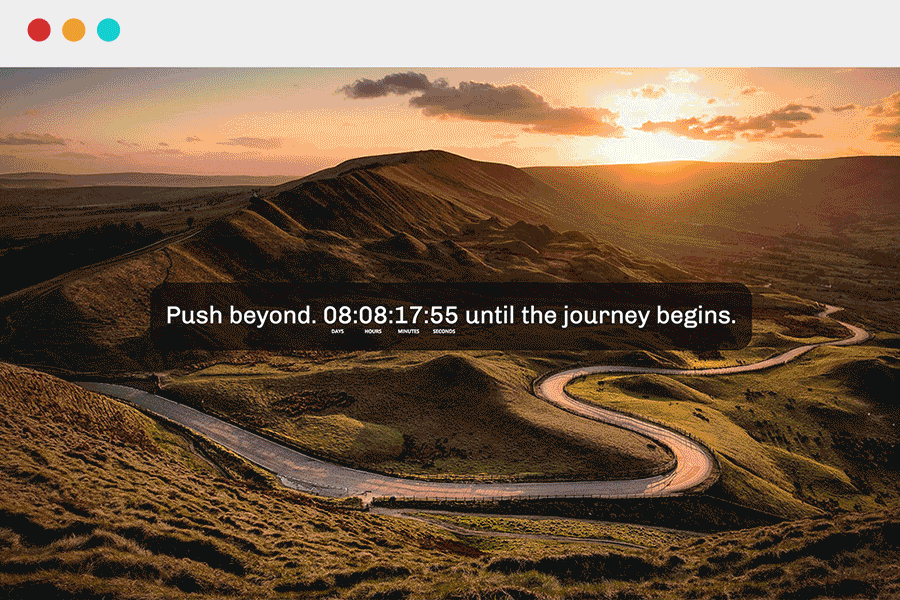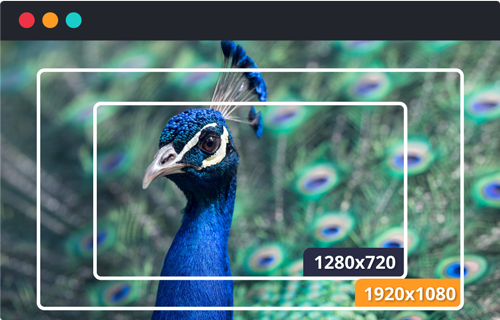 Broadcast ready
StreamTimer has pixel-accurate 720 and 1080 modes in addition to the default full-screen configuration.
This means you can build your own custom backgrounds in Photoshop and get the timer overlay placement perfect.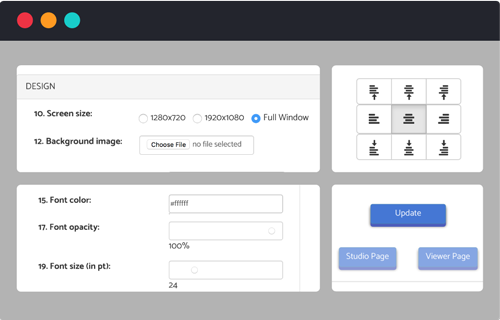 Fully customizable
Instantly adjust background image and color, box opacity, font color and opacity, rounded corners, and font face. StreamTimer countdown clocks can match up with any brand or broadcast aesthetic.
Chroma key ready
Set a solid color background and chroma key your countdown timer over your own content. This allows you to easily insert the timer into your existing graphics and chyrons.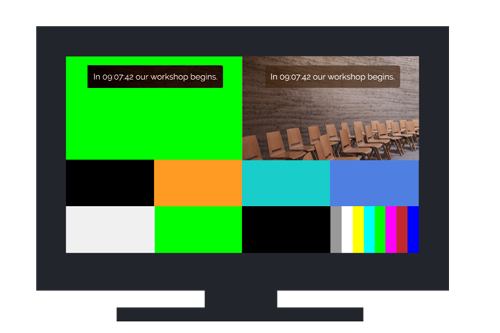 StreamTimer keeps your audience watching.